On October 17, 18, 20, and 21, 2007 Joanna Kurkowicz was a soloist in the US Premiere of Svara Yantra, the Concerto for violin and tabla by Shirish Korde with the Boston Philharmonic. The concerts took place in Jordan Hall, Boston, Sanders Theater, Cambridge and Mechanics Hall, Worcester. The public response  was overwhelming with standing ovation after each of four concerts and great reviews in the Boston Globe and other publications.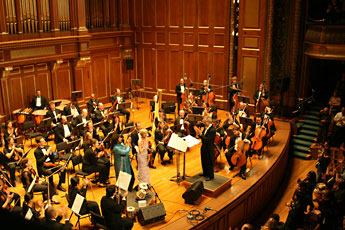 The Boston Philharmonic Orchestra 2007-2008 Season,
Concert 1 October 18, 20 & 21, 2007, included American premiere ofSvara Yantra.
"We have an amazing opening planned for next season. The orchestra is giving the American premiere of Svara Yantra, a dazzling violin concerto by local composer Shirish Korde that combines elements of Western music with instrumental techniques, rhythms, and scales peculiar to the music of India. It was composed especially for our beloved concertmistress Joanna Kurkowicz, who has performed it in Europe and Asia. It is enthralling—I'm completely in love with it and I know everyone who hears it in October will be spellbound."
—Benjamin Zander,
Music Director and Conductor, Boston Philharmonic Orchestra.