[
return to Discography
]
Grazyna Bacewicz
Violin Concertos Nos 1, 3 and 7.
Joanna Kurkowicz violin
Polish Radio Symphony Orchestra
Lukasz Borowicz conductor
Chandos 10533 (2009)
1-3 Concerto No. 7 for Violin and Orchestra (1965)
4-6 Concerto No. 3 for Violin and Orchestra (1948)
7-9 Concerto No.1 for Violin and Orchestra (1937)
10 Overture (1943)
Diapason d'Or Award , March 2010.
Preis der Deutchen Schallplaten Kritik, 2009 nomination.
Fryderyk Award 2010, nomination.
#6 on Amazon.com's list of the Best Classical Albums of 2009.
The recording is currently available at CHANDOS Records website, iTunes, Presto Classical,Amazon and Music Island.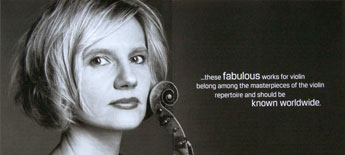 Featured reviews:
"A generation younger than Szymanowski and half a generation older than Lutosawski and Panufnik, Grazyna Bacewicz is a revered figure in Polish music. The orchestral heart of her output as a composer is the seven concertos she wrote for her own instrument, the violin, and as this superbly played selection from them shows, they are wonderfully idiomatic works, colourfully scored and always interesting formally. The sequence runs in reverse chronological order on the disc; it begins with the seventh and last of the concertos, completed in 1965, four years before her death. By then Bacewicz had absorbed what she required from all the trends of postwar European music and synthesised it into an attractive idiom of her own, supple and keenly expressive. The third and first concertos reveal where Bacewicz had come from – late Bartók in the case of No 3 from 1948, late Romanticism shading into expressionism in the single-movement No 1 of 1937. It's an interesting collection, and Joanna Kurkowicz is a keenly alert soloist in all three works."
—GUARDIAN
"…Bacewicz' music speaks with unerring agreeable directness. Joanna Kurkowicz expounds some extraordinary solo monologues, opening up the composer's inner world like August sunflower…"
—LA SCENA MUSICALE
"…This will go a long way toward establishing Bacewicz as rightfully belonging to the ranks of her contemporaries Lutoslawski and Panufnik…"
—RECORDS INTERNATIONAL
"… the value and originality of what Grażyna Bacewicz achieved (in the Violin Concertos) is very well conveyed by Joanna Kurkowicz's polished yet passionate playing…"
—GRAMOPHONE
"The music of Grazyna Bacewicz has made a huge impression on me whenever I have heard it. I sincerely hope that this magnificent recording of three of her violin concertos will put her on the map among orchestral concert programmers. … masterfully conceived journey—both disturbing and meditative. I really do think that Chandos has performed a huge service to a great composer byrecording these works, and the joyous performances of Kurkowicz, who is clearly enraptured by the music, are matched by the brilliant Polish Radio Symphony Orchestra under Lukasz Borowicz. May we now have No.2, 4 and 6?"
—THE INTERNATIONAL RECORD REVIEW, Ivan Moody
"…'The music of the Polish composer Grazyna Bacewicz, who died in 1969 aged 59, has not travelled widely, but this new collection should speed it on its way. Clear, precise solo work from Joanna Kurkowicz; beautifully managed accompaniments under Lukasz Borowicz…"
—THE INDEPENDENT (UK)
"All performances on this CD are excellent and inspired. The soloist was evidently very much engaged in this project (also clear from her very interesting notes in the booklet), and the fact that Chandos took nine (!) days to record it makes clear that they also did everything to make it a success! The Polish engineers made a beautiful, clear and transparent recording. I would very much like to hear Joanna Kurkowicz in the already mentioned Szymanowski concerts: on this CD she convinces with an impeccable technique, beautiful tone, an enormous variety in tone-colours and a performance that
forces you to listen! And that is an extraordinary achievement in these very difficult works. This CD is a winner in all respects: wonderful, unknown repertoire in sublime performances, beautifully recorded with interesting notes in the booklet. Just go and buy it! "
—OPUS KLASSIEK, Bas van Westerop
"…Expert performances and vivid sonics…They are ( concertos) marvelous discoveries and a major enlargement of the CD discography. Bravo to Joanna Kurkowicz, the fine Polish Radio Symphony under Lukasz Borowicz, and Chandos for rescuing these treasures from undeserved neglect."
—AMERICAN RECORD GUIDE, Mark Lehman
"…Die Geigerin Joanna Kurkowicz, die bereits gemeinsam mit der Pianistin Gloria Chien (Chandos, 2004) mit einer Kammermusik-CD ihr musikalisches Gespür für Bacewiczs Schaffen unter Beweis gestellt hat, erweist sich – sekundiert vom Polnischen Radiosinfonieorchester unter Leitung von Lukasz Borowicz – auch diesmal als ideale Interpretin für diese Musik. Sie ist brillant und beherrscht die schwierigen, aber zugleich auch ungemein geigerischen Werke außerordentlich gut. Sie trifft den Nerv
der Musik genau, agiert – etwa in den nervösen metrischen und rhythmischen Verschiebungen beim solistischen Beginn des Violinkonzerts Nr. 1 (1937) – präzise und zugleich mit dem notwendigen Gespür für feinste Abstufungen. Mehr noch: Kurkowiczs Spiel zeichnet sich durch eine ausgewogene Synthese von Stilgefühl und ideenreicher Umsetzung aus, so dass die Geigerin mühelos jene Punkte trifft, an denen sich Bacewiczs Virtuosität in eine sinnlich anmutende Klanglichkeit umwandeln lässt. Daher bleibt eigentlich nur zu wünschen, dass man vielleicht auch bald die übrigen Violinkonzerte von Bacewicz in dieser Qualität hören kann."
—KLASSIK.COM
"Violinist Joanna Kurkowicz does us all a great service by resurrecting these unjustly neglected works. Not only that, but she is a first-class virtuoso with technique to spare, and an obvious love and exceptional feel for this music. Be sure to read her informative performer's note in the album booklet to get a much better appreciation for and understanding of a woman composer whose time for rediscovery has hopefully come. Under conductor Lukasz Borowicz, the Polish Radio Symphony Orchestra join her in making a strong case for everything here, and prove what an accomplished group of musicians they are with their deft handling of these challenging scores. Ms. Kurkowicz' string tone is silky smooth, and the orchestral timbre, totally natural over the entire frequency spectrum, which is substantial because of the incredible number and variety of colorful instruments present. The balance between the soloist and numerous highlighted instrumental groups, including the full orchestra, is immaculate."
—CLASSICAL LOST AND FOUND, Bob McQuiston
"…This will go a long way toward establishing Bacewicz as rightfully belonging to the ranks of her contemporaries Lutoslawski and Panufnik…"
—RECORDS INTERNATIONAL
"Kurkowicz is an excellent technician with considerable warmth to her sound. It is just this rich but focused tone that humanizes what it can in the Seventh Concerto, while Kurkowicz easily finds the edge necessary to deal with the finale to the First Concerto. There are no other easily available choices in any of these works, however, and Kurkowicz sets a standard for committed playing that will be difficult to match, let alone beat. Recommended".
—FANFARE, Barry Brenesal
"Grazyna Bacewicz's music has long been an integral part of musical life in Poland, yet it is only inrecent years that her work has gradually started to attain the recognition it deserves outside her native country. This wider recognition has largely come about as a result of an increasing stream of recordings, none more so than in this, the one hundredth anniversary year of her birth. Earlier in 2009 it was Chandos that celebrated the centenary. Having previously released a disc of her music for violin and piano, the latest Chandos offering of three of Bacewicz's seven Violin Concertos features Joanna Kurkowicz as a compelling soloist in a fine recording well worthy of exploration."
—MUSIC WEB INTERNATIONAL
"In time for Grażyna Bacewicz' 100 anniversary (read about the composer in my anniversary tribute), Chandos—already among the labels that have done Bacewicz proud with fine releases—adds a very important recording of three of Bacewicz' seven violin concertos to the discography. Joanna Kurkowicz, already responsible for the violin sonatas on Chandos, doesn't just contribute with tautly-beautiful playing in Concertos № 1 (ebullient like an excited, neo-classical puppy), № 3 (weltering in lyricism + Bartok) and № 7 (sophisticated complexity), but also lucid liner notes; a respite from the self-indulgent treacle many colleagues are guilty of. The Polish-American soloist is supported by the (Warsaw) Polish Radio Symphony Orchestra under their new Artistic Director Łukasz Borowicz, a former assistant to Iván Fischer and Antoni Wit."
—CLASSICAL WETA FM
"…Three styles, three epochs, three different experiences, yet beautifully unified with joy. Kurkowicz, recognized virtuoso … navigates this material with astounding ease. The Polish Radio Orchestra under the baton of the young conductor Lukasz Borowicz creates strong and elegant background for her…"
—NEWSWEEK (Poland)
"Stylistyczną różnorodność trzech koncertów świetnie potrafi ukazać Joanna Kurkowicz. Polka, od kilkunastu lat działająca za granicą (głównie w (USA), z lekkością pokonuje wszystkie zawiłości techniczne, mimo że Grażyna Bacewicz, która była też wybitną skrzypaczką, nie stroniła w swych utworach od technicznej wirtuozerii.
—RZECZPOSPOLITA
"The performances throughout are of the highest quality – the technical difficulties of these concertos hold no fears for Joanna Kurkowicz, and her singing tone is well displayed in Bacewicz's gloriousl lyrical slow movements. I highly recommend this disc to anyone who loves the violin concertos of such 20th century masters as Bartók, Prokofiev and, of course, Szymanowski."
—RADIO NEW ZEALAND
"Rok 2009 to 100-lecie urodzin najwybitniejszej kobiety wśród kompozytorek – Grażyny Bacewicz. Swoją cegiełkę do obchodów włożył już pianista Krystian Zimerman krążący z serią koncertów po Polsce, teraz dołączają Amerykanka polskiego pochodzenia Joanna Kurkowicz i Polska Orkiestra Radiowa z szefem Łukaszem Borowiczem. Nagrali trzy wspaniałe koncerty skrzypcowe Bacewiczówny, nr 1, 3 i 7, co daje pojęcie o rozpiętości jej geniuszu. Choć od skomponowania tych dzieł upłynęło już ponad pół wieku, wydaje się, że nikt inny jeszcze nie wspiął się równie śmiało na wyżyny wiolinistycznej estetyki. Koncerty skrzypcowe Bacewiczówny to wciąż niedościgły, choć może nieco zapomniany wzór neoklasycyzmu z elementami folklorystycznymi i modernistycznymi."
—PRZEGLAD, Bronisław Tumiłowicz
"… Joanna Kurkowicz, polska skrzypaczka pochodząca z Lublina, ale mieszkająca na stałe w USA, gra na instrumencie Guarneriego z 1699 r., szczególną uwagę zwraca na barwę, kolor, jakość dźwięku. W jej interpretacjach czuć niezwykłą lotność i blask. Podchwytuje to Polska Orkiestra Radiowa, która pod batutą Łukasza Borowicza doskonale wyczuwa intencje artystki. Świetna płyta, która pokazuje, że muzyka Bacewiczówny może być porywająca. Ktoś powie – zawsze taka była. Zapewne, tyle tylko, że trzeba było takich wykonawców, byśmy sobie o tym przypomnieli.
—GAZETA WYBORCZA, Jacek Hawryluk
"Eine Herausforderung an Joanna Kurkowicz, der sie sich gern gestellt hat, als eine sich nach vertrauter musikalischer Syntax sehnende, aus Polen stammende Amerikanerin. Die Solistin ist bekannt als "disziplinierte Virtuosin" (Zitat der Zeitschrift Grammophone) und so hat sie sich ganz der Energie, dem kraftvollen rhythmischen Puls, der Lebendigkeit der Kompositionen hingegeben. Das Ergebnis der Aufnahmen ist beeindruckend und sicher ganz im Sinne der Komponistin."
—KULTURRADIO, Angelika Lucchesi
"….Olympia release (Lasocki) however, in terms of sound quality cannot compete with the new Chandos CD, which is superbly clean and clear, and Kurkowicz brings many unique qualities of her own ( her thoughtful, probing account of the first movement cadenza is entirely representative of her committed , exploratory approach). Indeed, in all three concertos, she is brilliant and engaging soloist, with warm and intelligent playing, alert to every nuance of the often quirky and demanding solo parts. This disc is strongly recommended."
—TEMPO, Paul Conway, Cambridge University Press
"Preis der Deutschen Schallplattenkritik. "Gemeinsam ist allen drei Werken ein übersch.umendes, gelegentlich auch widerborstiges Temperament sowie ein untrügliches Gespür für außergewöhnliche, leuchtende Orchesterfarben. Die nicht geringen technischen Herausforderungen meistert Joanna Kurkowicz mit Nonchalance und hörbarer, ansteckender Begeisterung, die zweifelsohne ihren Teil dazu beitragen wird, diese Musik der Vergessenheit zu entreißen"
—FONO FORUM
"…An insteresting disc of lesser-known Violin concerti. Polish composer Grazyna Bacewicz is considered by some to be one of the foremost female composers ever, and this recording on Chandos proves this point. Her lush writing for both the Violin and Orchestra are seen here in full force. Joanna Kurkowicz plays exquisitely througout the disc, and the Polish Radio Symphony supports her wonderfully. Concerto No.3 in particular is full of thick, seductive chords, and a variety of orchestral colours. This was nice surprise and is a must have item for violin fans!"
—GRIGORIAN
"…Kurkowicz interprets this music with fierceness  but also with lyricism in the slow movements , delights us with beautiful sound. The orchestra collaborates with her respectfully…" —POLITYKA
"…No wonder this concerto ( No. 7) has become a contemporary music evergreen; it is fantastic, visionary, exciting, and belongs to its own special musical universe … Kurkowicz who has recorded Bacewicz well before for Chandos – is completely on top of this literature, and the Polish Radio Symphony plays with authority and gusto…."
 —ALLMUSIC
"….expressively played … Kurkowicz's largo phrasings are unabashedly sensuous … Responsible for an earlier disc of Bacewicz's violin sonatas, Kurkowicz may be the one who introduce a new generation of Americans to this composer's beguiling creations…"
—AUDIOPHILE
"…these three violin concertos (she wrote seven), expertly performed by Polish violinist Joanna Kurkowicz, offer an excellent introduction to her music … Bacewicz has the  violin tug at a loose harmonic centre, creating fissures through which Kurkowicz pulls and teases, wrestling with the orchestra until it succumbs to her wishes, raucously … this CD is really all about the stunning Concerto No. 7…"
—CYCLIC DEFROST
Performer's note:
The year 2009 marks the 100th anniversary of the birth of Grażyna Bacewicz. Regarded by Witold Lutosławski as 'a distinguished Polish composer of the twentieth century and one of the foremost women composers of all time', and an accomplished violinist and pianist as well, Bacewicz certainly deserves much wider recognition than she has received to date outside her native country of Poland.
Bacewicz bridges the gap between the neoromanticism of Karol Szymanowski and the modernism of Witold Lutosławski. Despite her premature death at the age of fifty-nine, she produced more than two hundred compositions, including four symphonies, seven violin concertos, seven string quartets, five sonatas for violin and piano, concertos for piano, two pianos, and viola, and numerous works for chamber orchestra and full orchestra.
The idea of the present recording, of bringing together Violin Concertos Nos 1, 3 and 7, came to me after the simple realisation that these fabulous works for violin belong among the masterpieces of the violin repertoire and should be known worldwide. Yet, they are virtually unknown, especially outside Poland. The 1943 Overture, suggested for this project by conductor Lukasz Borowicz, seemed a perfect companion for the violin concertos. It is a beautiful display of orchestral virtuosity and powerful rhythmic driving force.
As I do her sonatas for violin and piano, which I recorded a few years ago (CHAN 10250), I find the concertos of Bacewicz instrumentally brilliant. Written by a violinist who knew the technical challenges of the instrument, these works are indeed difficult. But at the same time they seem natural and convey musical ideas with absolute clarity. It is obvious that Bacewicz herself studied each passage from the kinaesthetic point of view to provide the best solution for achieving the desired sound. Her choices of sonorities, articulations, tempos – even fingerings – in the musical text suggest a deep understanding of the instrument, which draws me even closer to her music.
One of the main characteristics of Bacewicz's style is its energy, quickness, and vigorous rhythmic pulse; the music is full of life and speed. The great Polish conductor Grzegorz Fitelberg once asked Bacewicz, 'When will you stop writing these fast sixteenth notes?' 'That is my style', she replied. Indeed, her musical style grew from the nature of her personality. Bacewicz wrote about herself: Nature bestowed on me a certain talent and also a little something that enables me to use this talent. Deep inside I possess a minuscule, invisible motor that allows me to accomplish a task in ten minutes, that would take others an hour or more. Thanks to it, I run, not walk. I speak fast, even my pulse beats faster than normal, and I was born two months premature…
As a musician and as a person, I identify myself with this statement. I love the lightness and excitement of the oberek, rondo and Vivace movements of these concertos. I find the First Concerto very fresh and youthful; Bacewicz's unique energy is already obvious. That energy resurfaces in the ferocious virtuosity of the Vivo of Violin Concerto No. 3, and it is unmistakably apparent in the finale [not actually labelled 'Vivace', but 'Allegro', in the score, so far as I can see] of Violin Concerto No. 7.
The interest which Grażyna Bacewicz took in Polish folk music comes through in the beautiful slow movements of the violin concertos, in which – from time to time – she uses original Polish folksongs. Their lyricism and melodic identity are precious for me, an American artist though a native of Poland, longing for familiar musical syntax. Bacewicz does not limit her exploration of folk sources to slow movements; in the third movement of Concerto No. 3 she uses a very well-known motif from the Tatra mountains region of Poland, an oberek that is raw, robust and fast.
The most complex and sophisticated work on this recording – and my personal favourite – is Violin Concerto No. 7. Here, Bacewicz shows a unique colouristic imagination, and the effect is stunning. The second movement in particular transports me to a world of surreal narrative, articulated by her resourceful orchestral instrumentation and, in solo passages, her brilliant use of dynamics, harmonics, sul ponticello technique, and combinations of trills and glissandos. The inventiveness of Concerto No. 7 puts it on the same artistic level as the concertos written by Karol Szymanowski, Alban Berg or Henri Dutilleux. The Concerto was among Bacewicz's most recognised works, awarded a prize by the Belgian Government and the Gold Medal at the Queen Elizabeth of Belgium International Competition for Composers in Brussels in 1965.
For me personally, this recording project is a celebration of a supremely talented composer and her fascinating, captivating works for the violin. My sincere hope is that generations of violinists, teachers and critics will be attracted to Grażyna Bacewicz's œuvre – especially the violin concertos – and that the quality and originality of Bacewicz's works will secure them the acclaim they so richly deserve, and their rightful place among the masterpieces of the repertoire.
— Joanna Kurkowicz
[
return to Discography
]